Visit Our Dental Office in Jonesboro
Welcome to Troy Bartels Family Dentistry, your dental home! Dr. Troy Bartels and his team are proud to provide comprehensive dental care in a warm, welcoming environment at our dental office in Jonesboro. Thanks to our advanced technology, our treatments are more effective and efficient than ever before. So, whatever your dental needs, we're here to help you get and maintain a healthy, beautiful smile.

Contact Us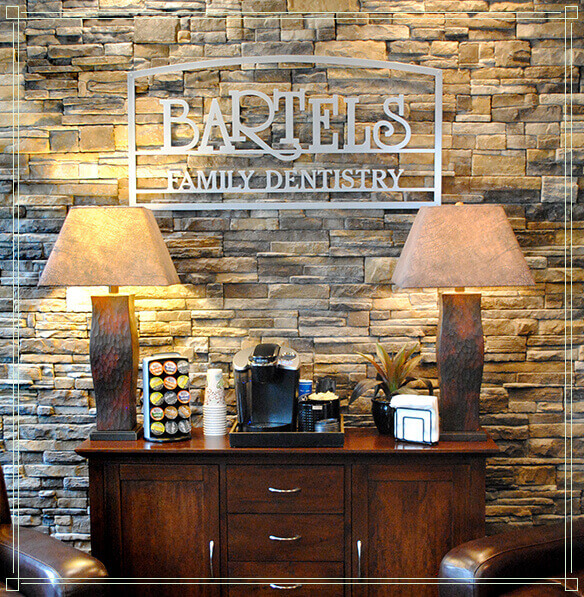 Your Comfort Is Important
While your teeth are our top priority, we also focus on your comfort while you're with us. We've stocked our Jonesboro dentist's office with a number of amenities for you to enjoy throughout your appointment.
Office-Wide WiFi
Complimentary Coffee
Music Headphones
Pillows & Blankets
Books & Toys
Treasure Chest with Prizes for Kids
State-of-the-Art Technology
Our goal is to provide you with treatment that is comfortable, effective, and efficient. Dr. Bartels stays up-to-date on all the trends in the dental field, and he loves bringing new technology to the office. Have questions about the tools we're using during your appointment? Just ask! We're happy to tell you about what we use and how it benefits your oral health.
Digital X-Rays
Because they emit up to 90% less radiation than traditional X-rays, digital X-rays are safer and can be used with most of our patients. There is no film to process, either, so images are available immediately for faster diagnosis and treatment. We use a digital process for both bitewing and panoramic X-rays.
Intraoral Camera
If you've ever wondered what we see inside your mouth, now you can find out! Our intraoral camera takes high-resolution pictures, and even video, inside your mouth to help us make more accurate diagnoses. We can also use them to walk you through your treatment plan before we begin.
DIAGNOdent®
Instead of relying solely on X-rays to find signs of decay, we can use the DIAGNOdent laser cavity detection system. It can detect even small amounts of decay, allowing us to place smaller fillings.
Soft Tissue Laser
When treating problems like gum disease, our soft tissue laser removes the need for scalpels and sutures. We can use a laser to remove diseased tissue, reshape gums, and so much more. Healing time is faster than ever, too.
Smile Preview Software
Before we begin a treatment like placing porcelain veneers, we can use our smile preview software to create the smile of your dreams. This lets you see the end result of your treatment before we even start! We can make adjustments until you're completely satisfied with the look.
3D Imaging
Thanks to advances in radiographic technology, we can now use our 3D imaging machine to take a CT image as well as a panoramic image all in one quick scan. This provides a higher quality image and results in a more accurate diagnosis and wider range of treatment options.