Dental Implants
Do missing teeth leave you missing out on the things you enjoy, like smiling and talking with confidence or eating your favorite foods? With the help of implant dentistry, you can restore your smile to full function and beauty! Dental implants look natural, feel comfortable, and are just as strong as your natural teeth, so you don't have to avoid certain foods. You can go back to living a full life and smiling your way through your days!
Benefits of Dental Implants
Restore ability to speak and eat with ease
Stop other teeth from shifting into the space left by a missing tooth
Prevent cheeks from sagging
Look and feel like natural teeth
Last a lifetime with proper care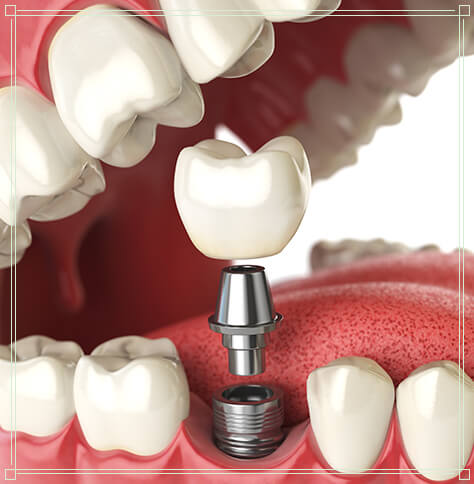 What Are Dental Implants?
Patients who are missing one tooth or many teeth can all benefit from dental implants. A dental implant consists of a small titanium screw and post, which we surgically place into the jaw bone. The titanium fuses with the bone over the course of a few months, leaving behind a solid "root" to replace your natural tooth root. Once the implant has fused, we top it with a restoration – a crown, bridge, or denture, depending on your needs – and your smile is complete once again!
We are pleased to be able to provide start-to-finish tooth implant services in our Jonesboro dental office. You won't be referred out to a specialist or need to make appointments at other offices. The team you've come to know will be the one helping you to reclaim your beautiful smile.
Who Is a Candidate for Dental Implants?
Anyone missing one or more teeth could be a great candidate for dental implants. The best way to find out if they're right for you is to come in for a consultation. We'll take a look at your teeth, analyze your jaw bone, and make sure that your mouth is in good enough shape to support the implants.
At your consultation, we will also discuss the best restoration for your needs and lifestyle. Dental crowns are great for single-tooth replacements. A bridge is also an excellent single-tooth option, but we can also use them for patients missing a couple of teeth in a row. Patients missing most or all teeth may benefit most from implant-supported dentures. Rest assured, though, that no matter your situation or needs, we can help you get a beautiful, full smile once again!
Call to schedule your dental implants consultation and regain your healthy smile!