Restorative Dentistry in Jonesboro, AR
Life can take a toll on our smiles. If your teeth need a little extra TLC there's no need to feel embarrassed. Our skilled team at Troy Bartels, DDS can get you back to enjoying a healthy, beautiful, fully functioning smile once more!
Tooth-Colored Fillings
After we remove tooth decay, we place a tooth-colored composite resin in the space left behind. Our discreet fillings can improve your oral health and preserve the look, feel, and functionality of your teeth. When cavities arise, we can get you back to smiling in no time and help prevent future decay with our modern fillings! Visit your local dentist near you for all your restorative dentistry needs!
Dental Crowns
Dental crowns are ceramic caps that completely cover an existing tooth. They are an extremely versatile restorative treatment. They can fix a chipped, cracked, or broken tooth, support a weak tooth, strengthen a tooth after root canal therapy, or replace a missing tooth with a dental implant.

Learn More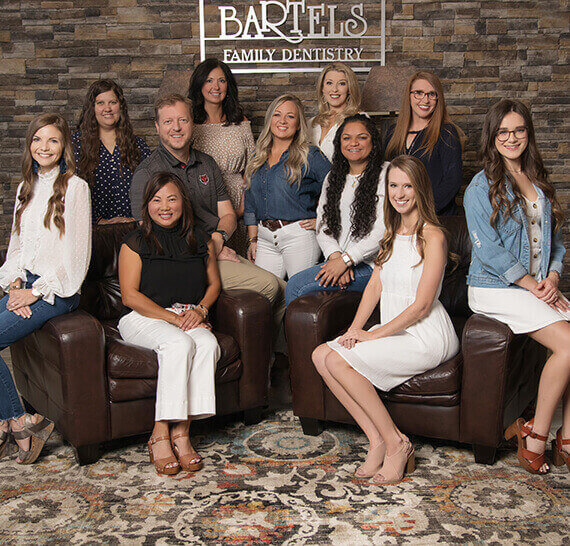 Bridges
Missing one tooth or multiple teeth in a row? Dental bridges are a prosthesis that attaches to existing teeth or implants on either side of the gap with natural-looking replacement teeth that fill in the space. Bridges are a great, cost-effective way to get back to enjoying a complete, functioning smile.
Full & Partial Dentures
Improvements in dental technology and techniques have made dentures more comfortable and natural-looking than ever before. We offer both full and partial dentures depending on the number of teeth you're missing. Full dentures replace an entire upper or lower arch, while partial dentures are used when some natural teeth still remain in your gumline. Your prosthesis will be composed of a gum-like acrylic base with false teeth attached and can be connected with either metal clips or a secure dental adhesive.
Dental Implants
Missing teeth? Dealing with uncomfortable, ill-fitting dentures? We provide start-to-finish dental implant services which means that we can complete the entire process in-house from placement to restoration. Implants fuse with the jawbone to create a stable foundation for a replacement tooth so you don't have to worry about your restorations moving around!
Root Canal Therapy
Do you have a severely damaged or decayed tooth? If so, don't stress: you've come to the right place! We offer gentle, stress-free root canal therapy to clean out the damaged pulp from inside your tooth. Root canals can preserve your natural tooth, avoid the need for extraction, and restore your oral health!
Tooth Extractions & Wisdom Teeth Removal
We take a conservative approach to your dental care and will exhaust all other restorative options before recommending an extraction. However, sometimes they're necessary to preserve your dental health. We also perform wisdom teeth removals to avoid future complications, such as overcrowding, painful eruption, or impaction. Rest assured, we'll make your experience with us as comfortable as possible and provide you with detailed aftercare instructions to ensure a smooth recovery.
Schedule your restorative dentistry consultation!